i was all keyed up for what i wanted to post and what i wanted it to look like, but i was screwed over by having a pirated cd for which there are no lyrics online yet. poor me...but mostly poor y'all.
instead, you'll have to settle for half the post. of course, it includes five complete decemberists albums...so, cry me a freaking river.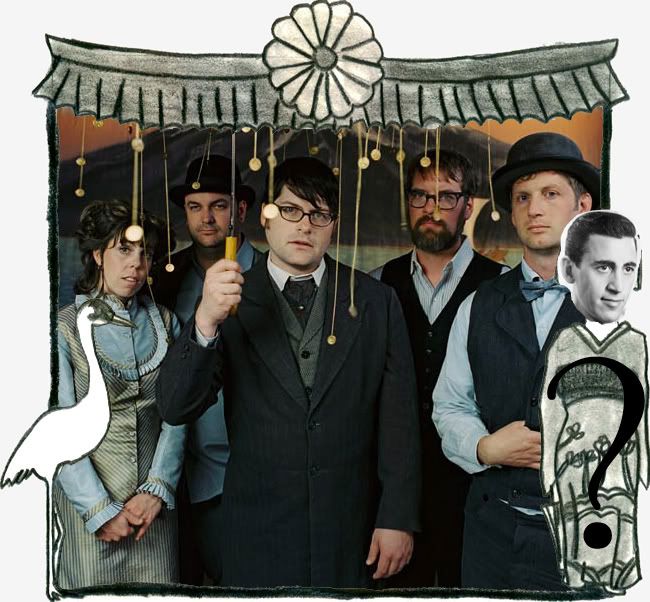 The Decemberists.
Index of five full albums
.
well...this solves the mystery of what jd salinger has been doing with himself in recent years. only he could divide a woman so cleanly into three "random" servings and make me feel like she and i are old friends...and like i would take a bullet for her.
hmm...i just checked
wiki
, and it doesn't mention salinger anywhere. not surprising, really...what kind of hermit would he be?
this is one of the best love songs i have ever heard. end of story.
Red Right Ankle
.
Lyrics
.
This is the story of your red right ankle
And how it came to meet your leg
And how the muscle, bone, and sinews tangled
And how the skin was softly shed
And how it whispered, "Oh, adhere to me
For we are bound by symmetry
And whatever differences our lives have been
We together make a limb"
This is the story of your red right ankle
This is the story of your gypsy uncle
You never knew cause he was dead
And how his face was carved and ripped with wrinkles
In the picture in your head
And remember how you found the key
To his hideout in the Pyrenees
But you wanted to keep his secret safe
So you threw the key away
This is the story of your gypsy uncle
This is the story of the boys who loved you
Who love you now and loved you then
And some were sweet and some were cold and snuffed you
And some just layed around in bed
And some, they crumbled you straight to your knees
Did it cruel, did it tenderly
Some they crawled their way into your heart
To rend your ventricles apart
This is the story of the boys who loved you
This is the story of your red right ankle